About us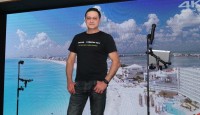 Orest A. CEO
We'r specialize in Creative LED video walls / displays ,and lighting ,   manufacturing and custom made led video walls / displays and lighting according to the project design .
Company was establish in business since 2004 as "Nova Vision" DBA ,and since 2008 become as Nova Vision NY Corp. 
We have enough experience in led lighting and video walls industry to follow any kind of projects from smallest to biggest complicated projects.
We are helping to organize all lighting work, include tech drawings of installation, advise professional people with experiens of LED light installation , and provide tech support before and after sales.
Nothing is impossible , make your dreams become alive!
For tech support and products info, call us or mail at
Tel. 1(800)799-7630 Ext 1 for sales Ext 2 for tech support
Email : NovaVisionNY@gmail.com 
Website : www.novavisionny.net 
Below is our team and showroom video :
Casper Zax - Interiors and lighting design.
Design projects developed by Caspar Zax will catch your eye by its unique and truly authentic style. Author's hand can be traced through each work, as well as his clear idea of every project. It's a playful alliance of shapes, colors, textures and light, where the last one has a leading part.
LED Video Wall Doctor installers team
" LED Doctor " installers team

Proffesional LED videos walls and Lighting installers with great experience in installation and programming of different kinds of LED video screens , architectural and Club LED lighting .

Small or big projects will be done in same professionalism to meet customers satisfaction.