3D Globe LED video displays
3D led globe display
is a new 360 degree curve LED display, view angle of LED ball is 360 degrees. 3D led display globe is professional designed for LED rental business with its portable advantage. 3D led display global can be used as an advertising media in shopping mall, commercial center, large plaza and squares. 3D led display globe also is widely used as ornamental LED display in nightclub, exhibition center, entertainment stage, studio, TV station, cinema, products collection, etc. LED ball always become the hot focus of the customers are attracted by it's surprise vision effect.
LED ball now become popular LED products with following advantages:

1. 360 degree viewing angle, have a better viewing effection than flat LED display,
2. Portable, aluminum structure, support stacking and hanging installation.
3. Diameter can be designed and manufactured according to your detail requirements, entirely spherical controlled by Computerized Numerical Control,
4. Play full color video synchronous or asynchronous,
5. Excellent heat radiation design, ensure the reliability work status and long life of LED ball.
According to the requirement on special environment from customers, created the first full color 3D led display globe at the beginning of 2011. Standard LED ball is pixel pitch 10mm, it's diameter is 1 meter. LED ball can bring amazing decoration effection to hotel, stage and your shopping center, show wow vision to the audience.
The spec and parameter:
LED Sphere Display Item Parameter:
DIAMETER -1M
Pixel Pitch10mm
LED Configuration3-in-1 SMD(3528)
Pixel Density10000 Pixels /m²
Brightness≥2000cd/ m² / 1300cd/ m²
Scanning Mode1/4 Scan
Gray Scale≥12 bit
Refresh Frequency≥800HZ / 500HZ
Viewing Angle Horizontal(H)≥120º Vertical(V)≥120º
diameter1000mm
Weight70Kg(max)
Work Consumption2000W/Box(max)-1000 W/Box(avg.)
Ambient Temperature-30ºC~60ºC
Life Time≥50000h
14Work Voltage90V-260V 50-60Hz
IP LevelIP40
The led display globe diameter can be customize, such as 1m, 2m, 3m , 4m , 5m 6m etc.
LED ball is the standard irregular LED display, the LED ball both can be used for rental and permanently installation. 
For example below image of 1M in diameter  LED Globe screen, and it's easy to for rental ,transportation,and  fixed installation, this is the ideal LED products in stage decoration.  Total weight only 70 Kgs.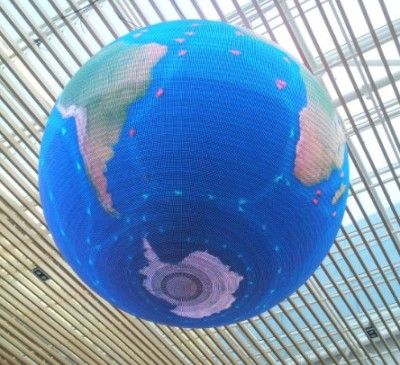 3D LED globe screen P10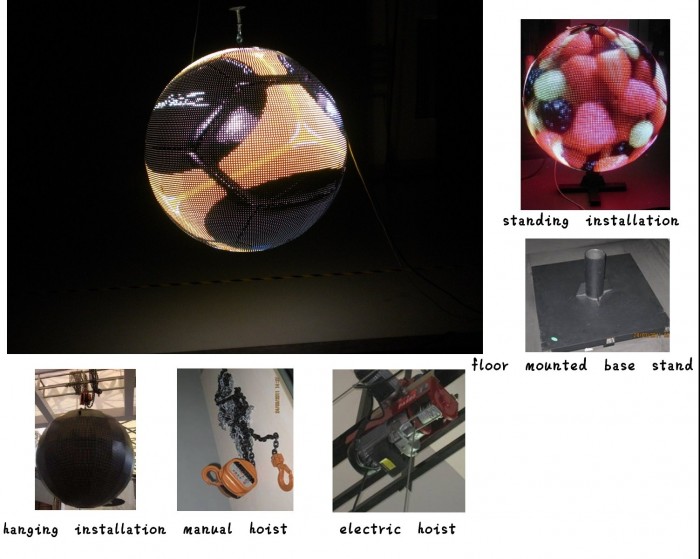 DMX/DVI LED Ball Video Screen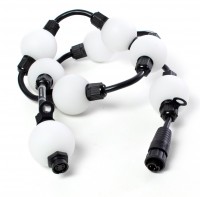 LED DMX/DVI Ball Video string
Model: NV-LDB-50-P200
This unique LED Ball shape video screen mostly used as art decor backdrop decorative video wall in concert halls , clubs , museum , shopping malls and any other project applications.
Technical structure of the ball let you easy add, and subtract balls to meet your required size of entire project area. 
Color of external sphere of the ball ,and wires ,can be milky white , clear frosted or transparent.
Data protocol : DMX512 or DVI , can work with Madrix dmx control soft or LED Video controller
Pixel Ball size : 50mm (2")  Pitch size : 200mm (8")
Color option : RGB , Single color ( white , warm white , and others )
For more detail and spec click link below
Download tech spec click here ⬅️
Sphere type below: milky white, and frosted clear