Outdoor series LED video Displays  

ThroughVision / Outdoor Bar LED Video Display / SMD series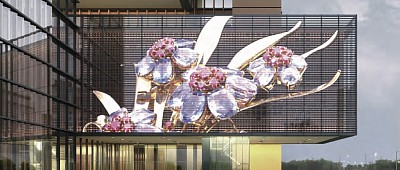 ThroughVision / Outdoor Bar LED Video Display / SMD series
ThroughVision SMD series is outdoor LED video display with high transparency, high brightness, low power consumption, easy installation and high protection level. It is suitable for the building surface, building roof, outdoor advertising and other scenes installation.
VBO Series - Large scale media facade display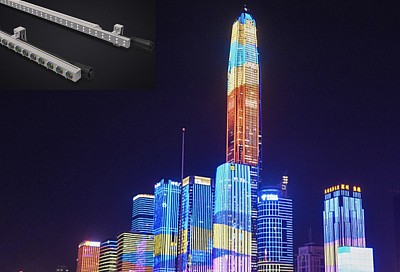 VBO Series - Large scale media facade display
LED Video Bar Outdoor- Large scale media facade display
PLAT Series outdoor LED display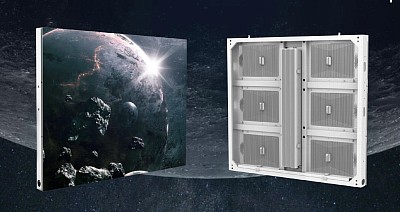 "PLAT" Outdoor LED Video display
Multiple Cabinet Size Available
960x1280/960x960/960x640/1440x640/1280x640mm.
Weight: 30KG/m²(with modules) Thickness: 75mm
• IP65 Protecting Ranking
Protective Performance
•Strong Flame Resistance:
Aluminum material, high temperature durability, fast heat-dissipation.
Reach 5VB fireproofing level approved by TUV.
Protecting Rating (front and rear): IP66 approved by TUV Full sealed die-casting aluminum module chassis.
Water proof connectors(between modules).
Drain hole is designed at the bottom of the panel to prevent ponding.
• IP65 
Longer Warranty3 years and 5 years warranty available(for goldwire led chips)
"ProHD" Outdoor Fine Pitch LED Display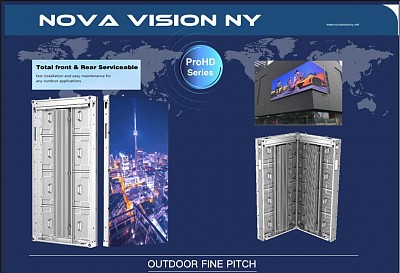 Outdoor Fine Pitch LED Video Display
Outdoor Fine Pitch LED Video Display 
Flexible Size
500mm*1000mm 500mm*750mm 500mm*500mm
High Brightness

Copper wire 5000 nits , Gold wire: 6500 nits
5VB fireproof
Die-casting Alumimun module High temperature durability Corrosion protection
•Protection Level from high to low in UL94: 5VB>V0>V1>V2>HB
Light Weight

Weight: 34KG/m² Thickness: 80mm
Outdoor LED video display front service access. 90 degree corner , available pitch sizes : P3.9 , P4.8 , P5.9 , P7.8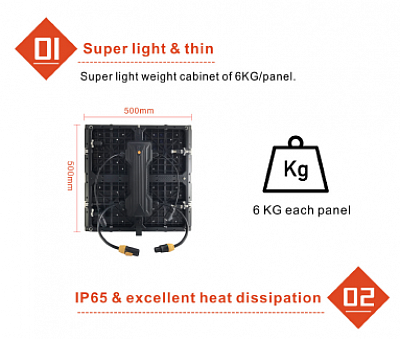 Outdoor LED Video Display B series , Fixed installation , 90* corner
Outdoor LED video display front service access. B-Series -
Pitch: 3.9/4.8/5.9/7.8mm are available 

This is new unique outdoor led video display a specially designed for fixed installation directly on the wall ,and  45 degree side angle of the tile  can able to build 90 degree corner displays without gap. Great for heat dissipation ,super lightweight 6kg only , thin , fast and easy to install. Front service magnetic design made easy to remove the whole tile from subframe for maintenance.  
Golden VS Copper wire LEDs 
Copper wire bond LED lamp is easier to be oxidized outdoors than gold wire one. So gold wire bond LED lamp are more durable and more stable.

Usually the LED chip size is larger in gold wire encapsulated lamp. Larger LED chip enables the LED lamp present higher brightness and consume less power.

Golden wires LEDs cost more then copper wires option, and golden lamps on the long run saves you more money, less failure rate, brightness higher, decay level are lower, power consumption less saves electricity cost.