Outdoor series LED video Displays  

ThroughVision / Outdoor Bar LED Video Display / SMD series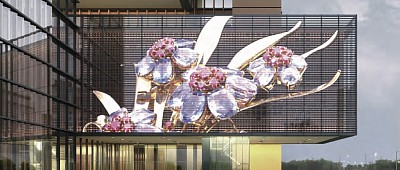 ThroughVision / Outdoor Bar LED Video Display / SMD series
ThroughVision SMD series is outdoor LED video display with high transparency, high brightness, low power consumption, easy installation and high protection level. It is suitable for the building surface, building roof, outdoor advertising and other scenes installation.
VBO Series - Large scale media facade display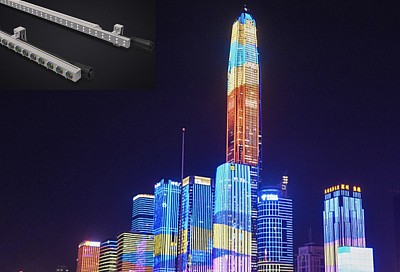 VBO Series - Large scale media facade display
LED Video Bar Outdoor- Large scale media facade display
PLAT Series outdoor LED display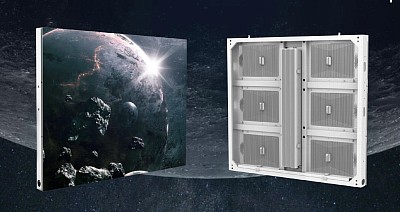 "PLAT" Outdoor LED Video display
Multiple Cabinet Size Available
960x1280/960x960/960x640/1440x640/1280x640mm.
Light Weight

Weight: 30KG/m²(with modules) Thickness: 75mm
• IP65 Protecting Ranking
Protective Performance
•Strong Flame Resistance:
Aluminum material, high temperature durability, fast heat-dissipation.
Reach 5VB fireproofing level approved by TUV.
Protecting Rating (front and rear): IP66 approved by TUV Full sealed die-casting aluminum module chassis.
Water proof connectors(between modules).
Drain hole is designed at the bottom of the panel to prevent ponding.
• IP65 
Longer Warranty3 years and 5 years warranty available(for goldwire led chips)
"ProHD" Outdoor Fine Pitch LED Display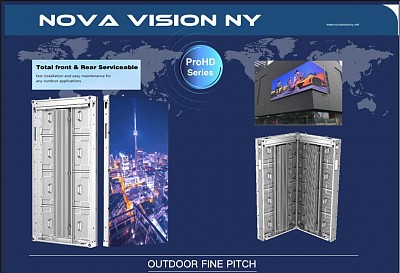 Outdoor Fine Pitch LED Video Display
Outdoor Fine Pitch LED Video Display 
Flexible Size
500mm*1000mm 500mm*750mm 500mm*500mm
High Brightness

Copper wire 5000 nits , Gold wire: 6500 nits
5VB fireproof
Die-casting Alumimun module High temperature durability Corrosion protection
•Protection Level from high to low in UL94: 5VB>V0>V1>V2>HB
Light Weight

Weight: 34KG/m² Thickness: 80mm
Outdoor LED video display front service access. 90 degree corner , available pitch sizes : P3.9 , P4.8 , P5.9 , P7.8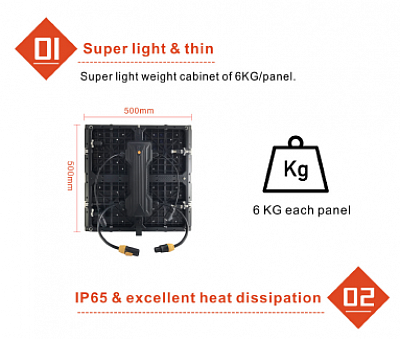 Outdoor LED Video Display B series , Fixed installation , 90* corner
Outdoor LED video display front service access. B-Series -
Pitch: 3.9/4.8/5.9/7.8mm are available 

This is new unique outdoor led video display a specially designed for fixed installation directly on the wall ,and  45 degree side angle of the tile  can able to build 90 degree corner displays without gap. Great for heat dissipation ,super lightweight 6kg only , thin , fast and easy to install. Front service magnetic design made easy to remove the whole tile from subframe for maintenance.  
Golden VS Copper wire LEDs 
Copper wire bond LED lamp is easier to be oxidized outdoors than gold wire one. So gold wire bond LED lamp are more durable and more stable.

Usually the LED chip size is larger in gold wire encapsulated lamp. Larger LED chip enables the LED lamp present higher brightness and consume less power.

Golden wires LEDs cost more then copper wires option, and golden lamps on the long run saves you more money, less failure rate, brightness higher, decay level are lower, power consumption less saves electricity cost.
Fine pixel pitch outdoor LED Video display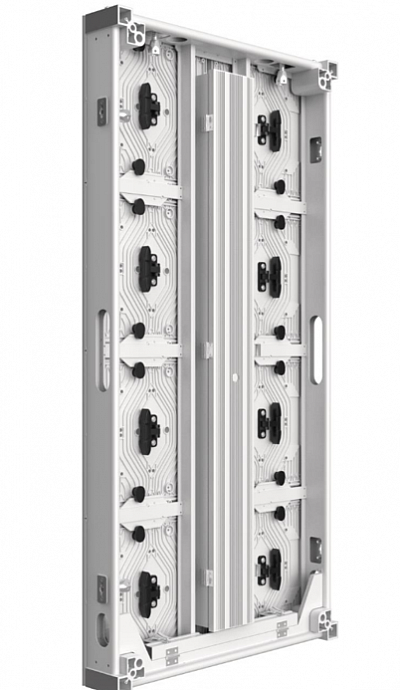 Fine pixel pitch outdoor LED display
 Common Cathode with Energy-Saving outdoor LED video display, download spec file click here ⬅️
Common cathode is an energy-saving power supply technology for LED display, which can effectively solve the problems of high screen temperature and excessive power consumption of common anode circuit. the average temperature of the panel of the common cathode circuit is 15°C lower than that of the traditional common anode circuit,and the power consumption is reduced by more than 20%.
 Four-level energy-saving technology
Class I dynamic energy saving: when the signal is not displayed, turn off the driving circuit of the constant current tube chip;
Level II black screen energy saving: when the display screen is completely black, the static consumption current of the chip drops from 6mA to 0.6mA;
Level III full-screen energy saving: when the low level is maintained for 300ms, the static consumption current of the chip drops from 6mA to 0.5mA;
Class IV shunt power supply and step-down energy saving: the current first passes through the lamp bead, and then goes to the negative electrode of the IC, so that the forward voltage drop becomes smaller and the on-resistance becomes smaller.
 Real color, more realistic picture
The refresh rate is up to 3840Hz, the contrast ratio is up to 5000:1, and the grayscale is above 16 bit. Red, green and blue three-in-one LED lamp beads, with good consistency, and the viewing angle can reach more than 140°.
 Structure optimization, flexible installation
Provide a variety of sizes of cabinets to choose from, different sizes of cabinets can be spliced with each other, and support various installation methods such as floor-standing, hoisting, and wall-mounted. Detachable power supply box, hard connection, front and rear maintenance, to meet the needs of different customers.
 Driving Project
It has the function of list up and down hidden, high refreshing ratio, dark dot amended in first line, low grayscale amended, color cast and spot amended, etc.
 Stable and high protection
Outdoor application products, IP66 protection grade, integrated all-aluminum design, with corrosion resistance, high melting point, flame retardant and fire resistance, moisture resistance and salt spray resistance, can operate normally in the seaside environment for a long time, strong environmental adaptability, outdoor all-weather work.
 Stable and reliable performance
Ultra-low temperature rise, low power consumption, low attenuation, and the good thermal conductivity of the aluminum module itself, make the heat dissipation effect of the whole screen better, no need to install air conditioners, high reliability and long service life.