Round LED video displays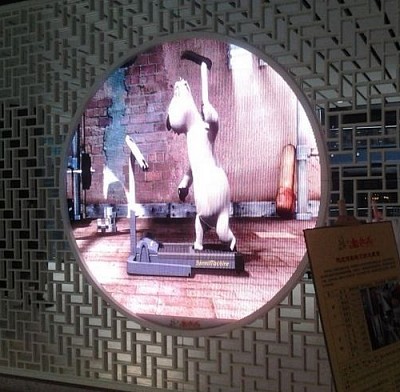 P3 800mm Round led video display
Round shape LED video screen
To make a round shape display we are using different technics , it is all depend of actual project . For example to make a large round or irregular shape display we use standard modules with different sizes and shapes to build rough round shape, and then hiding the edges of the modules under a border round shape frame .
However small sizes round shape screens comes in some standard sizes ( according actual pixel pitch ) and made with special curve or round shape of modules.
All the screens mostly custom made, and requires  more project details before manufacturing, and we'll need to collect more information : diamter of the required display, pictures of actual installation area , viueving distance from audiens to the screen , indoor or outdoor installation , purpose of using ( what type of media will be playing , graphics , videos or still images ) .
All of this details will help to estimate the actual cost for your project .
For more information please contact us , and we will happy to provide full solution , and tech support.
P1.94 round advertisement LED display
P1.94 LED Advertismet Display
New round shape led display design to play ultra sharp videos , pictures and logos.
Can be control from any smart phones and PC
P4.6 outdoor double side round LED display model 2
Model 2 has following updates :
New unique design
Auto brightness control by light sensor
Stronger support structure
8 supported holes for screws
Shorter distance of the support arm between wall mounts and LED display , and side designed supported wings makes screen strong against wind.
Power cord comes out from the back side of the lower support mount and can be connected to electric junction box or pass through the wall and connected behind the wall to electrical outlet.
Media files uploaded by WiFi from any smart phones or PC , also available network port to connect directly to PC (recommended only for software settings services ).
Mobil app name : Viplex Handy
Specifications
Diameter of the screen : 650mm (25.5")
Diameter of the visual area : 600mm (24")
Screen Resolution: 128x128 pixels of each side
Brightness max :4500 nits
Brightness sensor adjust automatically Luminous during day and night : 200-4500
Operating voltage : 110-220V AC
Protection level : IP65
Instructions
:
Download Viplex Handy app
Open WiFi settings in your smart phone
Choose WiFi name AP5000....
Return back to Viplex Handy app
Click connect
Choose single or double frame
Upload media ( videos or pictures )
Click send
Once it reaches 100% upload you are done.
Enjoy of your new attractive video sign!
Recommendations :Install
Crop video
app , you'll need to crop video to square format to make video files looks correct on the display not squeezed , because we have resolution 128x128 pixels format 1:1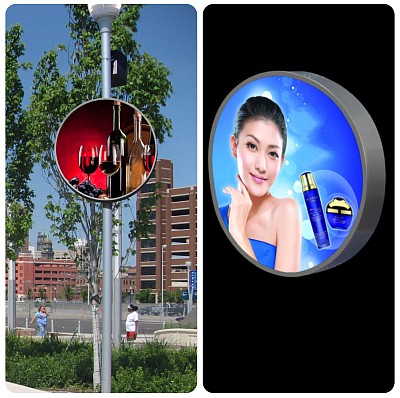 Outdoor round shape led display
Outdoor round shape LED Advertisment video display 
Outdoor Round LED Display
Available pitch sizes : P6

Available diameters : 880mm
Brightness : 4500 Nits
Viewing angle : 120H 120W
Refresh rate : 1920Hz
Gray level : 14bit
Control : asynchronous , wireless by 4G or WIFI

Operating voltage : 100-240V AC 50/60Hz
Humidity : 10-90% RH
Protection : IP65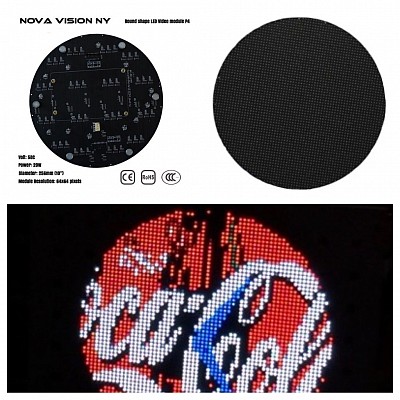 Round shape LED Video module P4
Round shape LED video module P4
 P4 Round shape mini LED module 10" (256mm) in diameter 
This unique smallest shape round module can be widely use as advertisement display , video art design decor, animation logo rotator, and so on.
On the back of the module you can install:
Asynchronous WiFi media player card, and play any type of video formats , pictures and gif files 
Receiving card ,connect to main sender card, and play videos and other files in real time 
Actual diameter : 256mm (10")
Actual resolution : 64x64 pixels 
Refresh rate : 1920Hz
Gray level : 16 bit 
Power consumption : 20W
Input voltage : 5VDC
Indoor use : IP20