Projects video collections playlist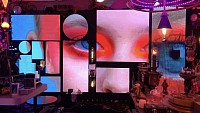 Visit our YouTube channel
NOVAVISIONNY YouTube channel 
LED Video Walls/Displays installations videos playlist 
Installations of the front service wall mounted LED displays.
Artistic LED Video products playlist 
Hand made and designed by Orest A. LED video and lighting products.
LED Video Displays products presentation playlist 
Video collection of different type of LED video displays products can be ordered for your project design ideas.
Creative LED Video Displays Collection 
Unique collection of creative LED video displays.